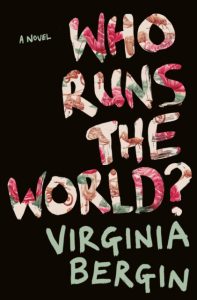 Who Runs the World?
A very serious question that deserves a very intelligent answer. It's hard to believe that a single book could encompass all aspects of such a deep question, but Bergin dives right in and skillfully weaves the story where women do actually run the world.
The teenagers of today's world are 'grandmummas' when this story occurs. After a deadly virus has wiped out all males, the female population have 'grieved, pulled together and moved on'. They have made a new society, new laws, and are happy. So when 14-year-old River stumbles across a boy, everything the women have established, all the information they took as the truth, crumbles around them.
The story was really beautiful and interesting. I really like books that have different laws, government systems and structure than us and here is one. It has really made a name for itself, despite only being published in 2017, and I hope you take the time to read it.