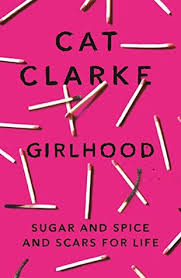 Sugars and Spice and Scars for Life.
I've always loved books that are about female friendship. There is just something so relatable about them, and that always helps in understanding and liking a book.
After her twin Jenna dies from anorexia nervosa, Harper decides to fulfil their childhood dreams and go to boarding school. She makes new friends, and she is happy.
Then she meets Kirsty, a new girl at Duncraggan Academy, who understands her in the way that the others couldn't; she'd lost a sister, too. But as Harper and Kirsty become closer, more and more strange things appear about Kirsty as she tries to surface from a tangle of lies. Their friendship affects everything around them and unearths their darkest secrets and their deepest pains. Under the enormous strain of guilt and grief, will their friendships survive?
Something interesting about this book is that you don't find ou the main character's name for a while. Instead of finding that frustrating, I thought that was pretty interesting because it shows  Harper is so engrossed and possibly overshadowed by her twin that she forgets about herself most of the time.
I really loved it and recommend it if you like YA friendship books.