ISLINGTON READING ROAD MAP BOOK AWARDS:
I was invited (now a while ago) to the Islington Reading Road Map Book Awards. This project for primary schools helps build strong foundations for reading to be used in Later Life (that's right, those words your parents always lecture you about 😉 ). Sixty books were selected for children to read throughout primary school. My school invited me, along with some other students, to go to an  awards ceremony for selected authors.
Schoolchildren did a vote to see which six authors would be shortlisted for a final vote. These are the six shortlisted books:
Tamsin in the Deep- The Phoenix Magazine

Dogman- Dav Pilkey

Crimson Poison- Susan Moore

Darkmouth- Shane Hegarty

The Wild Beyond- Piers Torday

Attack of the Demon Dinner Ladies- Pamela Butchart
The winner was…
(drumroll please…)
ATTACK OF THE DEMON DINNER LADIES!
The final and wonderful touch to this wonderful day was that ewe could also get signatures from the authors! I just go so excited I emitted a high-pitched squeal. Sorry.
Here is a photograph of the signings I got in that day: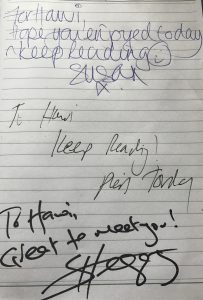 Top- Susan Moore
Middle- Piers Torday
Bottom- Shane Hegarty