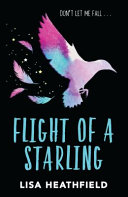 Rita and Lo are sisters. They are closer than closer than close; they can tell each other everything. Lo loves dancing high on the trapeze, feeling as if she were on top of the world. Then Lo meets a boy, and suddenly, all she wants to do is stay on the ground. As dark truths and ugly secrets slowly tear her apart, how far would Lo go to stay grounded?
Flight of a Starling is a raw, uncultured hurricane of the confusing emotions of teenagerhood, with a backdrop of a flamboyant, colourful circus, but the reader gets a deep and true insight into the people behind the greasepaint as well.
In this harrowing story of happiness, love, pain and realisation, the reader is sure to be hit hard with barrels of deep and unfiltered emotion.