As you have probably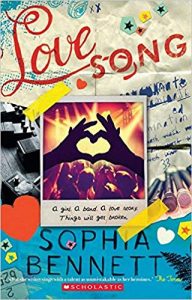 gathered from various other posts, I absolutely love romantic YA literature. You could even say that it was the basis of this very blog, amongst my love for dystopian fiction- my two favourite things combine.
Love Song is a beautiful and uplifting book, a favourite of mine that I was trying to hunt down for a century until the other day, where I saw it sitting on my school library bookshelf.
Nina is a 17-year-old girl from Croydon, England. She is focused and practical and absolutely doesn't engage in any form of romance since her boyfriend Jez cruelly left her when she needed him the most.
In an unexpected turn of events, she ends up becoming the personal assistant to the Sigrid Santorini- reality TV star and girlfriend of Jamie Maldon, the lead singer in the internationally acclaimed band the Point. Luckily, she's not the type of girl to fall for him, not after what happened. Absolutely not. No way.
This heart-warming and beautiful novel is a tribute to loving again.
This book in three words: Music- Heartbreak- Healing
Thanks for reading!