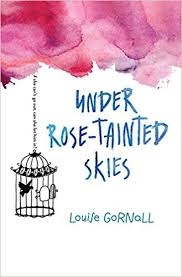 As shameful as it is, before reading this beautiful book, I had NO IDEA what agorophobia was. I remeber asking a school librarian, pronouncing it 'a-goro-phobia' instead of 'agro-phobia'. He laughed an explained that it was a fear of 'outside', and I was compelled in a way I haven't been in a long time. I'm not scared of a lot of things; bring on the spiders, snakes and clowns, so I thought it would be really interesting to try it out. And wow, did I treasure that decision.
Norah has agorophobia, and has lived in the four walls of her house for a long time. The only time she ever goes out is when she needs to see her therapist, and it usually doesn't end well. Combine that with and OCD neat-freak, and you have a withdrawn, confusing/confused teenager who contributes to the outside world by staring out of her window and scrolling through social media.
So when Luke, a sweet, hot boy arrives next door, Norah is shocked to realise he sees past her mental health and obsessive tidiness. He sees a beautiful, intelligent and witty girl who is worth waiting for, but what will it take for Norah to see herself the way he does, and fully accept how she feels about him?
It was a wonderful, lyrical journey through a path rarely taken, and its uniqueness is both shocking and stunning.
Hope you enjoyed,
Hawi xx